2001: United Kingdom County Outlines
---
This year's card is made up of outlines of UK counties. Each county outline represents the initial letter of its name, and these letters make up the message.
I was inclined to use the current local government units for the counties, but this proved problematic. First, the definition of "county" is these days rather vague, with many local areas having unitary authorities, with no county level above them: many of the new counties introduced in the 1970s have thus been abolished. Secondly, especially with the paucity of Scottish "regions" (also now generally superseded), the names of the units available did not provide all the initial letters I needed. So I had to resort to the traditional counties, and even to include Northern Irish ones in order to give me the required "T".
Front page

The counties depicted are:

Hampshire  Aberdeenshire  Perthshire  Pembrokeshire  Yorkshire

Cornwall  Hertfordshire  Ross-shire  Inverness-shire  Somerset Tyrone  Midlothian  Ayrshire  Sutherland

These represent:

Happy

Christmas

Inside page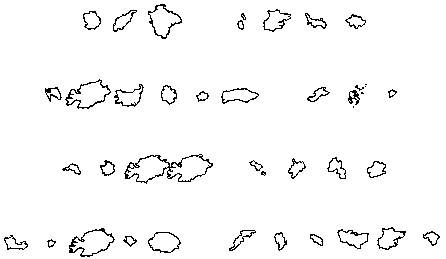 The counties depicted are:

Angus  Northamptonshire  Devon         Buteshire  Essex  Stirlingshire  Tyrone

Wigtownshire  Inverness-shire  Suffolk  Herefordshire  East Lothian  Sussex         Fife  Orkney  Rutland

Midlothian  Monmouthshire  Inverness-shire  Inverness-shire         Flintshire  Roxburghshire  Oxfordshire  Montgomeryshire

Berkshire  Rutland  Inverness-shire  Anglesey  Norfolk         Banffshire  Antrim  Renfrewshire  Kent  Essex  Radnorshire


These represent:

and best

wishes for

MMII from

Brian Barker

No, that's not a blemish at the bottom left corner of the front of the card: it's the Scilly Isles. I had to cheat, though, in some places, such as using only the mainland parts of Ross-shire ("and Cromartyshire"), leaving out the Isle of Lewis; and of Inverness-shire, leaving out both the Isle of Skye and the Isle of Harris and the rest of the Western Isles. Some other disconnected parts I included: Buteshire includes the Isle of Arran as well as the Isle of Bute; Orkney is, of course, many islands; and – surprisingly – Flintshire has a landlocked detached part, separated from its main part by Denbighshire and Cheshire.
I didn't make it to Dublin this year (as I had done the previous two), mainly because my passport expired in the summer. It was only after it was too late to book a pre-Christmas visit that I dug deep enough into the appropriate small print to discover – as I suspected – that British citizens born in the United Kingdom and travelling from Britain do not need a passport for travel to Ireland.
But to continue the Irish theme, I used the new (2001) Northern Irish definitive stamps on those cards that I posted. These depict variously "patchworks of rolling green fields held together by a network of trees and hedgerows", linen (a major industry since the seventeenth century), and a Parian china vase from the Belleek pottery. (No-one got the attractive detail of the Giant's Causeway's basalt columns, as I was too late for second class post!)
---
Version 12: Revised 13 December 2017
Brian Barker