2004: Saints' Days
---
This year a panoply of saints serve to encode the message. The message is made up of saints' names, with each name representing a letter in the text. Each saint represents his or her holy day, with the date (ignoring the month) in turn representing the position of the encoded letter in the alphabet. So St George, for example, represents his day – the 23rd (of April, in fact, but that doesn't matter) – and thereby the 23rd letter of the alphabet, W.
This code is not precise, for a number of reasons, including:
There is often more than one saint with a particular name, and the reader has to guess which is meant.
There is also an ambiguity over dates, with different churches celebrating the same saint on different days, sometimes because the date has been changed by one church or sect but not by others.
The complete code used is:
A 1 (March): St David, otherwise Degui or Dewi (died c.601), bishop of Menevia (now St David's), patron of Wales
B 2 (March): St Chad, otherwise Ceadda (died 672), probably Northumbrian by birth, educated at Lindisfarne, abbot of Lastingham, Yorkshire, bishop successively of York and Lichfield, and missionary; dedicatee of Birmingham's Roman Catholic cathedral
C 3 (July): St Thomas the Apostle, one of the Twelve, described as a twin, and remembered for his disbelief in the Resurrection (the original "doubting Thomas") until he had touched Christ's wounds
D 4 (October): St Francis of Assisi, in Umbria (1182–1226), friar, deacon, founder of the Friars Minor and of the Franciscan order
E 5 (August): St Oswald (?605–642), educated at Iona Abbey, king of Northumbria and martyr
F 6 (December): St Nicholas (died c.350), bishop of Myra in Asia Minor, noted for resurrecting three boys who had been murdered and pickled in brine, identified with Santa Claus
G 7 (not needed here)
H 8 (August): St Dominic (c.1170–1221), priest, founder of the Dominican order, born of a noble Castilian family
I 9 (June): St Columba (521–597), abbot of Iona, missionary, born of royal descent at Garten, Co. Donegal, Ireland
J 10 (not needed here)
K 11 (June): St Barnabas, styled as an apostle in the bible, but not one of the Twelve; born (as Joseph) of Jewish parents in Cyprus
L 12 (not needed here)
M 13 (January): St Kentigern (popularly known – and identified here – as St Mungo) (c.518–603), missionary bishop in Strathclyde and Cumbria, founder of the see of Glasgow, patron of Glasgow and dedicatee of its Church of Scotland cathedral
N 14 (May): St Matthias, styled "the Apostle" but not one of the original Twelve; had been with Jesus from his baptism to the Ascension, and took the place of Judas Iscariot after the Ascension
O 15 (July): St Swithun, bishop of Winchester (died 862) and one of the dedicatees of its cathedral, best known from the popular superstition that rain or the lack of it on his day will be followed by another forty days of the same
P 16 (September): St Ninian, son of a Cumbrian chieftain, bishop of Galloway, apostle of the Picts, (died c.432), the first apostle of Christianity in Scotland
Q 17 (not needed here)
R 18 (October): St Luke the Evangelist, a native of Antioch in Syria, author of not only the third gospel but also The Acts of The Apostles, the story of the young church; patron of physicians and surgeons
S 19 (May): St Dunstan, born near Glastonbury on the estate of his father, a West Saxon noble; abbot of Glastonbury and archbishop of Canterbury, restorer of monastic life (died 988)
T 20 (March): St Cuthbert, abbot and later bishop of Lindisfarne and patron of Durham, missionary (c.635–687)
U 21 (not needed here)
V 22 (November): St Cecilia, martyr at Rome, (died c.230), patron of music and musicians, often glorified in the fine arts and in poetry
W 23 (April): St George, patron of England, martyr (died c.304) at or near Lydda, in Palestine; fabled as a dragon-slayer
X 24 (not needed here)
Y 25 (October): St Crispin, (died c.287), martyr (with St Crispinian) at Rome, evangelised Gaul
Z 26 (not needed here)
It was difficult to see how this code could be stretched to embrace digits, so I had to resort once again to the depiction of the new year in roman numerals. Apologies to my Scottish readers that, although I managed to include St George and St David, patrons of England and Wales, I could not use St Andrew, whose day is 30 November and is thus off the end of the alphabet – but I did include St Ninian, St Columba, and St Mungo, all with Scottish connections. Similarly I could not use St Patrick, whose day is 17 March, as he would represent the letter Q, which I didn't need. As a native of Northampton, I had to include St Crispin, as he and his fellow and contemporary martyr St Crispinian were shoemakers and are patrons of shoemakers.
The full message is:
Front page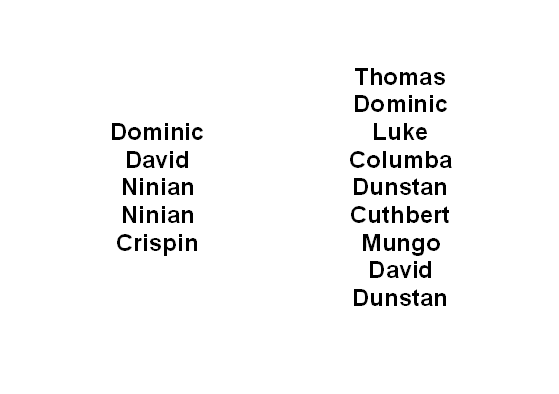 This translates as:

HAPPY CHRISTMAS

Inside page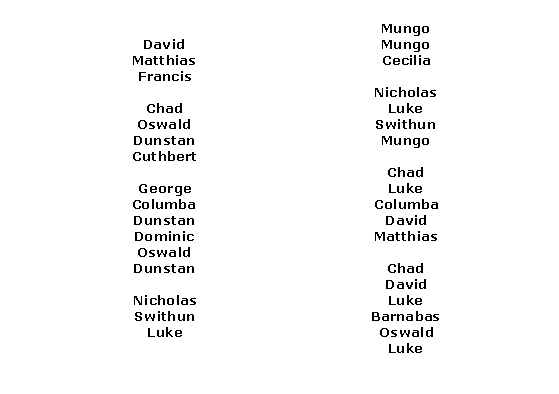 This translates as:

AND BEST WISHES FOR MMV FROM BRIAN BARKER

Acknowledgements: The holy days were resourced from the calendar of the Church's year, from the Church of England's web site, and much of the details of the saints themselves from the Catholic Encyclopedia.
---
Version 7: Revised 23 December 2018
Brian Barker