2007: London Bus Routes
---
This year the code was based on central London bus routes. A hard copy of the Central London bus guide (now discontinued in that form) was provided with the card.
The message is made up of hypothetical bus journeys, identified by their end points, each of which can be made as a single journey only by using a unique London bus route. Each journey then represents the number of its bus route, and this number in turn represents the letter with this position in the the alphabet. The journey from Elephant & Castle Station to High Holborn (Drury Lane), for example, can be made only on route 1, so the journey represents the first letter of the alphabet, A.
It was convenient that nearly all the low-numbered routes required to represent the letters of the alphabet venture into central London. Only routes 5 and 20 – representing E and T – did not feature on the provided guide. Recipients were left to guess or research which of these routes served those journeys which were entirely off the map.
It proved surprisingly difficult to find individual journeys that could be made only using a particular route and were therefore unambiguous in coding letters of the message. Some apparently suitable journeys transpired to be possible by different bus routes taking quite different routes between the end points. In other cases, a small change or ambiguity in an end point rendered the journey ambiguous as well. I hope the eventual choices are accurate. I prepared the journeys from the March 2007 version of the Central London bus guide, though some recipients were sent the November 2007 edition. I don't believe there are any differences affecting the chosen journeys.
The complete code of routes and their meanings is:



 A   1  Tottenham Court Road Station to Canada Water
 B   2  Marylebone Station to West Norwood
 C   3  Oxford Circus to Crystal Palace
 D   4  Waterloo to Archway Station
 E   5  Romford to Canning Town
 F   6  Aldwych to Willesden
[G   7  Russell Square to East Acton (Brunel Road) – not needed here]
 H   8  Victoria to Bow Church
 I   9  Aldwych to Hammersmith
[J  10  King's Cross to Hammersmith – not needed here]
 K  11  Liverpool Street Station to Fulham Broadway
[L  12  Oxford Circus to Dulwich Library – not needed here]
 M  13  Aldwych to Golders Green
 N  14  Warren Street Station to Putney Heath (Green Man)
 O  15  Paddington to Blackwall DLR Station
 P  16  Victoria to Cricklewood
[Q  17  London Bridge Station to Archway Station – not needed here]
 R  18  Euston Station to Sudbury
 S  19  Finsbury Park to Battersea Bridge (South side)
 T  20  Walthamstow Central Station to Debden Station
[U  21  Newington Green to Lewisham – not needed here]
 V  22  Piccadilly Circus to Putney Common
 W  23  Liverpool Street Station to Westbourne Park
[X  24  Pimlico (Grosvenor Road) to Hampstead Heath (South End Green) – not needed here]
 Y  25  Oxford Circus to Ilford
[Z  26  Waterloo to Hackney Wick – not needed here]
I could see no way to extend this code to embrace digits, so I had to resort once again to the depiction of the new year in roman numerals.
The full message is:
Front page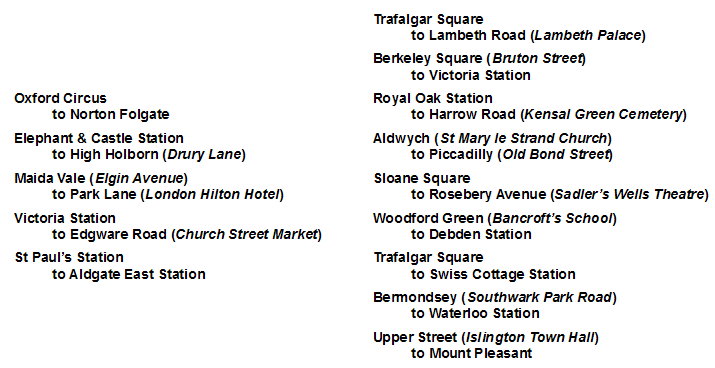 This translates as:
HAPPY CHRISTMAS
Inside page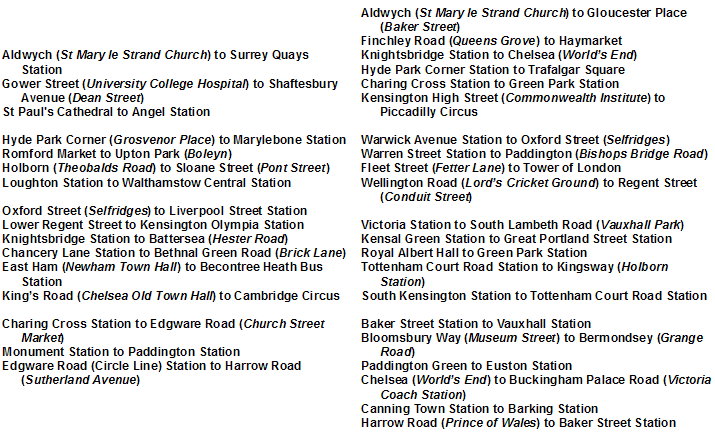 This translates as:
AND BEST WISHES FOR MMVIII FROM BRIAN BARKER
---
Version 8: Revised 13 December 2020
Brian Barker