2008: UK Parliamentary Constituencies
---
This year the code was based on UK parliamentary constituencies via the MPs that represent them. The message is made up of names of MPs – members of the House of Commons. Each MP's name then represents the name of his or her constituency, and thereby the initial letter of that constituency name. These initial letters build into the card's message.
Front page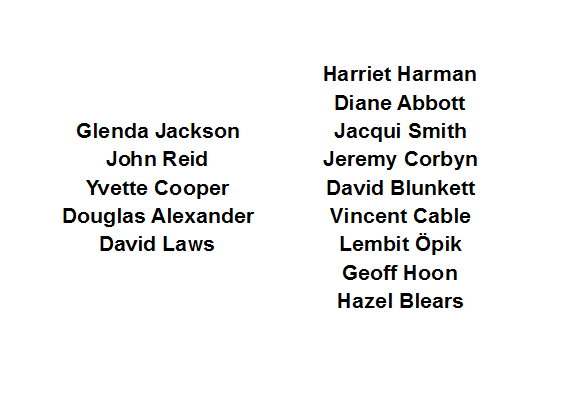 This translates as:


      Glenda Jackson: Hampstead & Highgate           
           John Reid: Airdrie & Shotts               
       Yvette Cooper: Pontefract & Castleford        
   Douglas Alexander: Paisley & Renfrewshire South   
          David Laws: Yeovil                         

      Harriet Harman: Camberwell & Peckham           
        Diane Abbott: Hackney North & Stoke Newington
        Jacqui Smith: Redditch                       
       Jeremy Corbyn: Islington North                
      David Blunkett: Sheffield, Brightside          
       Vincent Cable: Twickenham                     
         Lembit Öpik: Montgomeryshire                
          Geoff Hoon: Ashfield                       
        Hazel Blears: Salford                        

– giving:
HAPPY CHRISTMAS
Inside page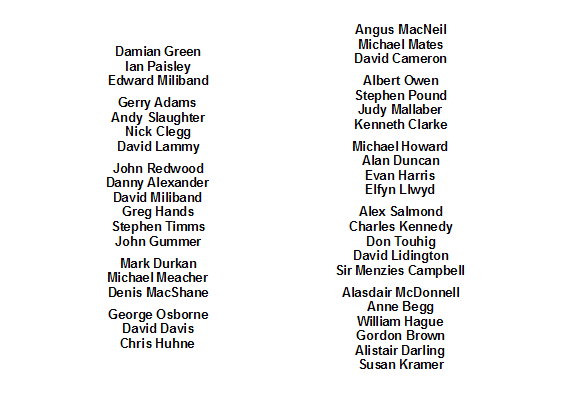 This translates as:


        Damian Green: Ashford                                
         Ian Paisley: North Antrim                           
     Edward Miliband: Doncaster North                        

         Gerry Adams: Belfast West                           
      Andy Slaughter: Ealing, Acton & Shepherd's Bush        
          Nick Clegg: Sheffield, Hallam                      
         David Lammy: Tottenham                              

        John Redwood: Wokingham                              
     Danny Alexander: Inverness, Nairn, Badenoch & Strathspey
      David Miliband: South Shields                          
          Greg Hands: Hammersmith & Fulham                   
       Stephen Timms: East Ham                               
         John Gummer: Suffolk Coastal                        

         Mark Durkan: Foyle                                  
     Michael Meacher: Oldham West & Royton                   
      Denis MacShane: Rotherham                              

      George Osborne: Tatton                                 
         David Davis: Haltemprice & Howden                   
         Chris Huhne: Eastleigh                              

       Angus MacNeil: Na h-Eileanan an Iar                   
       Michael Mates: East Hampshire                         
       David Cameron: Witney                                 

         Albert Owen: Ynys Môn                               
       Stephen Pound: Ealing North                           
       Judy Mallaber: Amber Valley                           
      Kenneth Clarke: Rushcliffe                             

      Michael Howard: Folkestone & Hythe                     
         Alan Duncan: Rutland & Melton                       
         Evan Harris: Oxford West & Abingdon                 
         Elfyn Llwyd: Meirionnydd Nant Conwy                 

        Alex Salmond: Banff & Buchan                         
     Charles Kennedy: Ross, Skye & Lochaber                  
          Don Touhig: Islwyn                                 
     David Lidington: Aylesbury                              
Sir Menzies Campbell: North East Fife                        

  Alasdair McDonnell: Belfast South                          
           Anne Begg: Aberdeen South                         
       William Hague: Richmond (Yorks)                       
        Gordon Brown: Kirkcaldy & Cowdenbeath                
    Alistair Darling: Edinburgh South West                   
        Susan Kramer: Richmond Park                          

– giving:
AND BEST WISHES FOR THE NEW YEAR FROM BRIAN BARKER
I chose generally better-known names in order to make it comparatively easy – especially for my overseas recipients – to see that they were, in fact, MPs, and I avoided being partisan by including representative members from most political parties and consequently from most regions of the UK. I couldn't resist the only MP with an accented name, or choosing the constituency with an accented name, Ynys Môn (Anglesey), or one with an official Gaelic name, Na h-Eileanan an Iar (Western Isles). (Interestingly, the UK parliamentary constituency uses the Gaelic name, whereas the identical Scottish parliamentary constituency uses the English name.) Oh, and I included my own MP for good measure.
I couldn't obtain digits this way, of course, so I could not include "2009". Neither could I use Roman numerals (MMIX), since there is no constituency with an initial "X". I had to use the simple "the new year".
---
Version 4: Revised 13 December 2017
Brian Barker