2014: Hymn Tunes
---
One October evening a few years ago I was travelling down Haverstock Hill on the top of a 168 bus (destination: Old Kent Road Tesco) – as you do. Well, you may do if you are on your way home from work in UCL's medical school (as I was then) at the Royal Free Hospital in north London's Belsize Park. The bus route passes the end of a road with the interesting name of England's Lane.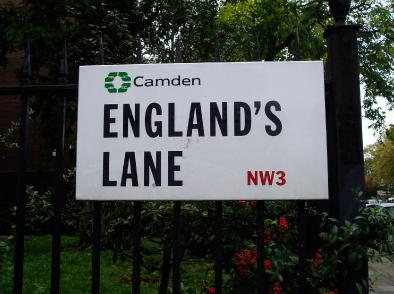 And so this year's idea sprang to my mind: England's Lane happens to be the name of a hymn tune. The tune was adapted from a folk song by Geoffrey Shaw in 1919 and appears to have reached the 1933 new music edition of the English Hymnal, indicated for the hymn For the beauty of the earth. In 1920 Shaw succeeded his elder brother Martin as director of music at the nearby church of St Mary the Virgin, Primrose Hill. (By coincidence, the current organist and choirmaster there is also director of music at Latymer Upper School, where I used to teach.) Revd Percy Dearmer, then vicar of St Mary's, was an editor of and prime mover in the publication in 1906 of the original English Hymnal; both Shaw brothers contributed to its music. England's Lane seems to have had no other significance than being noticed as the name of a nearby street.
Each line of music on the card is the beginning of the melody of a hymn tune. The code is made up of the initial letters of the names of the tunes – that's the tunes themselves, not the words of the hymns for which they may conventionally be used. So the beginning of England's Lane, where it appears, represents the initial letter E of its name. Those initial letters make up the message.
Front page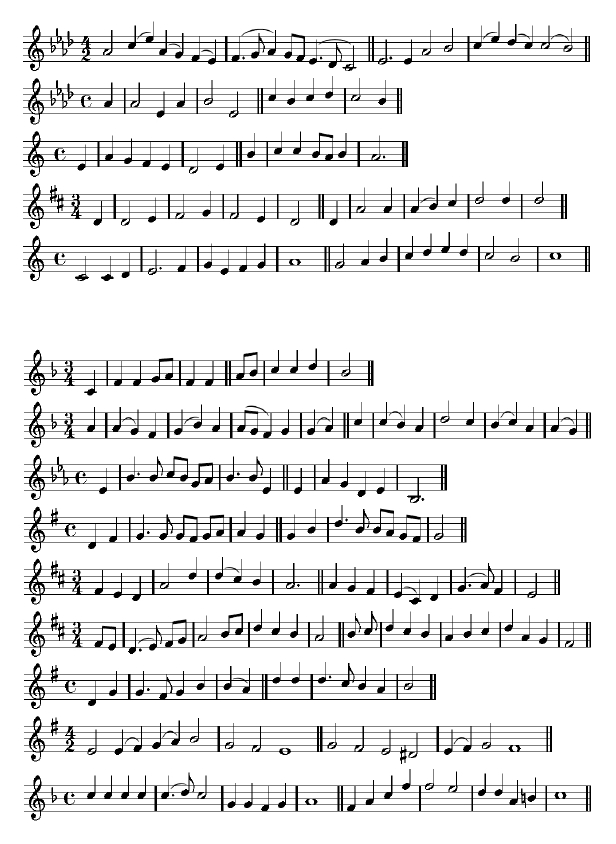 This translates as:

| | | |
| --- | --- | --- |
| H | Helmsley | Attributed to Thomas Olivers (1725-99), its melody probably by Thomas Arne (1710-78) and is used for the hymn Lo! He comes with clouds descending. |
| A | Adeste Fideles | Probably composed by J. F. Wade (c.1711-86). The tune's name is the first two words of the original Latin text of the hymn for which it is used: O come, all ye faithful. |
| P | Passion Chorale | Attributed to Hans Leo Hassler (1564-1612). Used for O sacred head, surrounded / by crown of piercing thorn! |
| P | Puer nobis | Based on a melody from a fifteenth-century Trier manuscript which probably dates from an earlier time. It was first published in Piae Cantiones ("Pious songs") of 1582. The name is the beginning of the Latin phrase Puer nobis nascitur, or "Unto us a boy is born". |
| Y | Yorkshire | Composed by John Wainwright (1723-68) and first used on Christmas Day 1750 in Stockport parish church. |
| | | |
| C | Cradle Song | Composed by William Kirkpatrick (1838-1921) and used for Away in a manger, no crib for a bed. |
| H | Hereford | Composed in 1872 by Samuel Sebastian Wesley (1810-76), organist at a number of cathedrals, notably at Hereford itself. Used for O thou who camest from above / the fire celestial to impart. |
| R | Repton | In 1924, George Gilbert Stocks, director of music at Repton School (hence the name), set Dear Lord and Father of mankind, forgive our foolish ways – part of John Greenleaf Whittier's poem The Brewing of Soma – to this melody from the oratorio Judith (1888) by Sir Hubert Parry (1848-1918). |
| I | Irby | Composed by Henry Gauntlett (1805-76) in 1849 and used for Once in Royal David's city. |
| S | Saffron Walden | This tune, usually sung to the hymn Just as I am – without one plea, was written in 1890 by Arthur Henry Brown (1830-1926), organist at Brentwood Parish Church for forty years from the age of ten, and also organist of Brentwood School Chapel. He was a keen cyclist, and used to tour Essex and the locality, and give his hymn tunes names from his favourite places. |
| T | The first Nowell | Published in 1833 by an anonymous author and used for The first Noel, the angel did say. |
| M | Mendelssohn | Adapted by the well-known Felix Mendelssohn-Bartholdy (1809-47) from a tune published in the Neuvermehrtes Gesangbuch in 1693 and named after him. Used for Hark! the herald-angels sing / glory to the new-born King. |
| A | Aberystwyth | Composed in 1876 by Joseph Parry (1841-1903) and used for Jesus, lover of my soul. |
| S | St. Gertrude | Composed in 1871 by Sir Arthur Sullivan (1842-1900), better known for the Savoy Operas, and used for Onward, Christian soldiers. |
– giving:
HAPPY CHRISTMAS
Inside page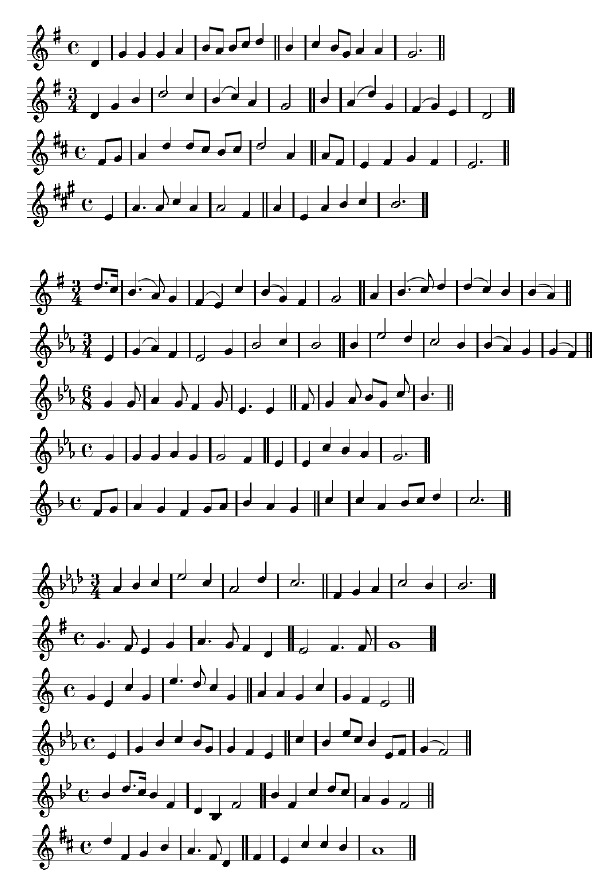 This translates as:

| | | |
| --- | --- | --- |
| F | Forest Green | Adapted and harmonised in 1906 by Ralph Vaughan Williams (1872-1958) from a French carol melody; used for O little town of Bethlehem, how still we see thee lie! |
| R | Richmond | Composed in 1792 by Thomas Haweis (1732-1820), a Cornish physician, later ordained. Used for City of God, how broad and far / outspread thy walls sublime! |
| O | Offertorium | Adapted by Michael Haydn (1737-1806), younger brother of the more famous Joseph. Used for William Cowper's hymn Sometimes a light surprises / the Christian while he sings. |
| M | Morning Light | Composed in 1837 by George James Webb (1803-87). Used for Stand up, stand up for Jesus! |
| | | |
| B | Bishopthorpe | Composed in 1700 by Jeremiah Clarke (1674-1707) and used for John Greenleaf Whittier's words Immortal love, for ever full / for ever flowing free. Bishopthorpe is a village three miles south of York and its Bishopthorpe Palace is the official residence of the Archbishop of York. |
| R | Rockingham | Harmonised in 1790 by Edward Miller (1735-1807) from an existing tune. Used for (the less than Christmassy) When I survey the wondrous cross / on which the Prince of glory died. |
| I | In memoriam | Composed in 1875 for Hymns Ancient and Modern by Sir John Stainer (1840-1901). Used for There's a friend for little children / above the bright blue sky. |
| A | Aurelia | Composed in 1864 by Samuel Sebastian Wesley (see above). Now used for The Church's one foundation / is Jesus Christ her Lord but named for its original use with Jerusalem the golden, with milk and honey blest. |
| N | Noel | Adapted by Sir Arthur Sullivan (see above) and used for It came upon the midnight clear, that glorious song of old. |
| | | |
| B | Beatitudo | Composed in 1875 by the interestingly named John Bacchus Dykes (1823-76) and used for William Cowper's words O for a closer walk with God, a calm and heavenly frame. |
| A | Ar hyd y nos | A Welsh folksong tune (also called "All through the night"), first recorded in 1784 in Edward Jones's Musical and Poetical Relics of the Welsh Bards. Used for God, that madest earth and heaven, / darkness and light. The tune's title is Welsh for "Through the night". |
| R | Regent Square | Composed in 1866 by Henry Thomas Smart (1813-79) and used for Light's abode, celestial Salem, / vision whence true peace doth spring. |
| K | Kilmarnock | Composed in 1831 by the Scot Neil Dougall (1776-1862) and used for the Christmas hymn Behold the great Creator makes / himself a house of clay. |
| E | England's Lane | Adapted by Geoffrey Turton Shaw (1879-1943) from a folk song, appearing in the English Hymnal and used for For the beauty of the earth / for the beauty of the skies. |
| R | Royal Oak | This tune is presumed to be named after a tree at Boscobel in Shropshire in which King Charles II hid during the Battle of Worcester in 1651. It is a folk song from the seventeenth century at the latest, adapted by Martin Shaw (1875-1958) for All things bright and beautiful, all creatures great and small, the hymn written in 1848 by Mrs Cecil Frances Alexander (1818-95), actually two years before she married Revd William Alexander, who later became Bishop of Derry and then Archbishop of Armagh. |
– giving:
FROM BRIAN BARKER
---
Version 5: Revised 24 December 2017
Brian Barker