2015: Royal Mail 4-State Customer Code Barcodes
---
This year's card used barcodes created using the Royal Mail 4-State Customer Code (RM4SCC). (This particular code appears to be being superseded by other forms.) Large users of the mail system print these barcodes comprising UK postcodes as well as the appropriate suffixes to identify individual delivery points. Each character is represented by four bars, two of which are extended upward and two downward. This allows thirty-six combinations, used for the ten digits and twenty-six letters. The codes as printed on postal items require start and stop characters – each a single bar and corresponding to parentheses in normal text – as well as a checksum character.
Front page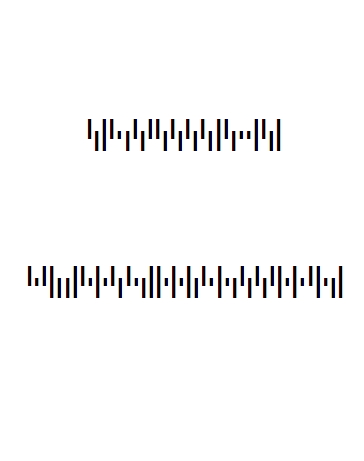 This represents:

HAPPY CHRISTMAS
Inside page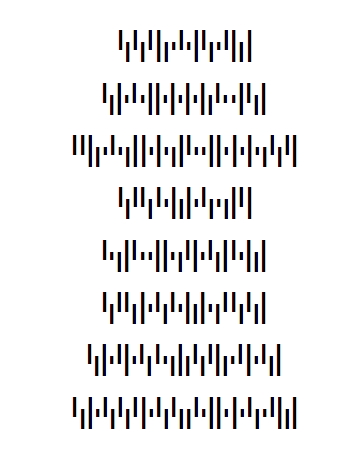 This represents:


AND BEST WISHES FOR 2016 FROM BRIAN BARKER

With the required start and stop characters and checksum character, the text strings actually encoded were:


(HAPPYD) (CHRISTMASV)


and:


(ANDC) (BESTD) (WISHESA) (FOR2) (2016O) (FROMP) (BRIANR) (BARKERC)

I also printed barcodes appropriate to the addresses of my UK recipients on the cards' envelopes.
---
Version 4: Revised 24 December 2017
Brian Barker