2021: Football stadiums
---
In trying to come up with a new idea for this year, it occurred to me to consider topics which usually do not interest me – and an obvious one was sport. It then happened to be a quick matter to think of this scheme.
This year's card uses the names of English and Welsh football stadiums. Each stadium represent the team using it as its home venue and thereby the initial letter of the team's name. For example, the Stamford Bridge stadium represents its team, Chelsea, and therefore the initial letter "C".
The code is not unique, in that in addition to a first-class football team, some stadiums host other teams – sometimes a women's team or one playing a different sport.
I had originally thought of using the code the other way around, using teams to represent their stadiums, which would have been slightly more challenging and also removed some ambiguities. But there were no stadiums with the initial letter "I" and, although I could have adjusted the message to exclude the letter "I" generally, it was impossible to include the word "Christmas" without an "I", of course. Fortunately, there is a team with an initial "I".
Some stadiums go by two names – an original one perhaps named after the district or street in which they lie, but also one representing an organisation sponsoring the stadium or team. The latter names naturally change, often frequently, and I have used the original ones where they seem still to be recognised.
There are a few interesting points. To translate the code, you need to realise that the team in Wimbledon is actually called "AFC Wimbledon" and that the Oswestry team is called "The New Saints", including the definite article. You also need to distinguish between the stadiums of Newcastle United and Exeter City, which are very similarly named but differently styled, one with and the other without the apostrophe, respectively "St James' Park" and "St James Park".
I managed to include my home town's team and stadium, though until 1994 the relevant stadium would have been the County Ground, borrowed from the county cricket team and opposite which I lived briefly in my teens. I also happened to include both the football stadiums local to my present address.
There was no way to represent digits in this code, nor the Xs required for the date in Roman numerals, so I had to resort to "the new year".
You may wonder why I have used the plural "stadiums" here instead of "stadia". The answer is that I went with the recommendation of my New Oxford Dictionary for Writers and Editors, which suggests "stadiums" for sports grounds and reserves "stadia" for "ancient Greek or Roman measure of length; ancient racing track".
Front page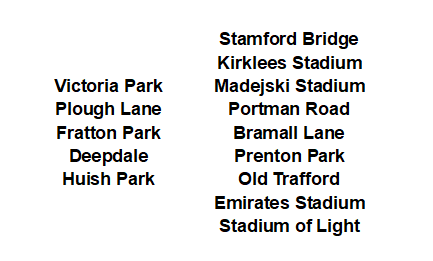 This translates as:
| | | |
| --- | --- | --- |
| Victoria Park | | Hartlepool United |
| Plough Lane | | AFC Wimbledon |
| Fratton Park | | Portsmouth |
| Deepdale | | Preston North End |
| Huish Park | | Yeovil Town |
| | | |
| Stamford Bridge | | Chelsea |
| Kirklees Stadium | | Huddersfield Town |
| Madejski Stadium | | Reading |
| Portman Road | | Ipswich Town |
| Bramall Lane | | Sheffield United |
| Prenton Park | | Tranmere Rovers |
| Old Trafford | | Manchester United |
| Emirates Stadium | | Arsenal |
| Stadium of Light | | Sunderland |
And thus:
HAPPY CHRISTMAS
Inside page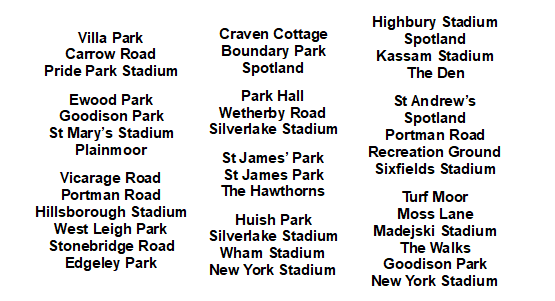 This translates as:
| | | |
| --- | --- | --- |
| Villa Park | | Aston Villa |
| Carrow Road | | Norwich City |
| Pride Park Stadium | | Derby County |
| | | |
| Ewood Park | | Blackburn Rovers |
| Goodison Park | | Everton |
| St Mary's Stadium | | Southampton |
| Plainmoor | | Torquay United |
| | | |
| Vicarage Road | | Watford |
| Portman Road | | Ipswich Town |
| Hillsborough Stadium | | Sheffield Wednesday |
| West Leigh Park | | Havant & Waterlooville |
| Stonebridge Road | | Ebbsfleet United |
| Edgeley Park | | Stockport County |
| | | |
| Craven Cottage | | Fulham |
| Boundary Park | | Oldham Athletic |
| Spotland | | Rochdale |
| | | |
| Park Hall | | The New Saints |
| Wetherby Road | | Harrogate Town |
| Silverlake Stadium | | Eastleigh |
| | | |
| St James' Park | | Newcastle United |
| St James Park | | Exeter City |
| The Hawthorns | | West Bromwich Albion |
| | | |
| Huish Park | | Yeovil Town |
| Silverlake Stadium | | Eastleigh |
| Wham Stadium | | Accrington Stanley |
| New York Stadium | | Rotherham United |
| | | |
| Highbury Stadium | | Fleetwood Town |
| Spotland | | Rochdale |
| Kassam Stadium | | Oxford United |
| The Den | | Millwall |
| | | |
| St Andrew's | | Birmingham City |
| Spotland | | Rochdale |
| Portman Road | | Ipswich Town |
| Recreation Ground | | Aldershot Town |
| Sixfields Stadium | | Northampton Town |
| | | |
| Turf Moor | | Burnley |
| Moss Lane | | Altrincham |
| Madejski Stadium | | Reading |
| The Walks | | King's Lynn Town |
| Goodison Park | | Everton |
| New York Stadium | | Rotherham United |
And thus:
AND BEST WISHES FOR THE NEW YEAR FROM BRIAN BARKER
---
Version 2: Revised 10 December 2021
Brian Barker